>,



Greetings from Penang! Nazlina has finally found some time to write the overdue newsletter. I apologize. Things have been hectic, both my personal and professional lives have been going through some major upheavals. In this issue, I would like to tell you the latest activities, including my hot-off-the-press recipe cards which are now available for sale.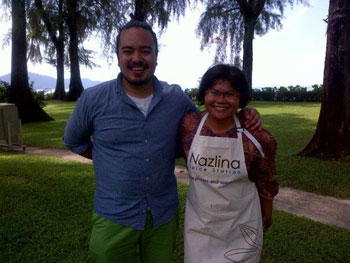 So, where were we? After the opening of Nazlina Spice Station, I had the opportunity to play host to Channel 9, a TV broadcast company from Australia, who brought in Adam Liaw, the 2010 Master Chef winner.
Adam and his crew walked the market with me and later we cooked at Lone Pine Hotel. This happened in October 2011. This special program, about Penang tourism was aired during the Kerry Anne show, which is a morning talk show in Australia. More pictures can be viewed here.
https://www.facebook.com/media/set/?set=a.10150358848542002.373796.684642001&type=3
Needless to say, all of us had fun.
After that, in December 2012, Nazlina Spice Station hosted the first meeting for Slow Food circle in Penang. Dato' Anwar Fazal again became the patron and together we invited like-minded people to join the gathering. We held a talk about coconut at 71, Stewart Lane. Ate and socialized!
The meeting lingered till over 8 pm. Everyone had a good time. More information about the Slow Food Movement can be found here
http://www.slowfood.com and you can like the Facebook page http://facebook.com/slowfoodpenang too. In April, we had another meeting, with the theme being "pineapple". My oh my, those home-made dishes made with pineapples were fantastic!
Those who did not turn up, definitely missed out big time! Photo report of the event can be viewed here at this url: https://www.facebook.com/media/set/?set=a.203227936447613.29089.129738520463222&type=1.
The next meeting will be held on 13th May 2012 at 5 pm. The theme is Punjabi staple food. An expert in making chapattis will be there, together with her killer lassi! So, do not miss it.
If you are in George Town, please drop by and join us. All are welcome and it is a free event ;-)
Talking about my cooking class locations, I have stopped operation on Tuesdays at Lone Pine Hotel. The last class held over there was at the end of February 2012. From then on, all Tuesdays classes would be held at my shop, Nazlina Spice Station.
The classes at the E&O hotel on Wednesdays are still on as always. You are welcome to join the market tour and the cooking class, or opt for the market tour alone. Another good news is, I am now a certified tour guide, acknowledged by the Ministry of Tourism of Malaysia.
I passed the exam in December 2011. It was a big sacrifice on my part. Going to night classes for six months. It was tough but worth it. Now I proudly have my tour guide badge!
The main reason why this newsletter is sent out is, after much delay, my recipe cards, entitled: Traditional Malay Recipes have been successfully published.
The package contains a set of twelve popular recipes from my cooking class. It can be ordered online at this page:

http://www.pickles-and-spices.com/malay-recipe-cards.html

Just click on this page to order your copies. Payment by Paypal and bank transfer is accepted. Besides a good reference, it also makes a perfect gift to those who love to cook! At only RM18.00, the cards are packed in style in a custom made envelope, in my striking trademarks colors. Orders will be mailed promptly, to any address, all over the world.

Finally, George Town festival http://www.georgetownfestival.com is back with more exciting events than previous years! Starting from mid-June 2012 and lasts all the way to the mid-July 2012, there are many shows being held all over the city. Check out George Town festival official website for more detail.

I am looking forward to seeing all of you soon! Do not forget to book early, especially for the months of June-August, for a spot in my cooking class.

Also, to get on the social media bandwagon,do LIKE my Facebook page to see updates on a regular basis.

==>> http://www.facebook.com/penangcookingclass


You can also look for http://www.twitter.com/Nazlina.

Until then, till we meet again!

Best wishes,

Nazlina